Tinnerman nuts/washers are used by some automarkers to keep the brake rotor on a vehicle as it goes down the assembly line. It is the brake system equivalent to a belly button. Tinnerman nuts should never replaced after the first set of rotors are replaced.
Tinnerman nuts can cause problems on newer vehicles if new rims are put on the vehicle. Most performance or aftermarket wheel do not have reliefs cut into the seats to accommodate this thin washer.  The driver may report a vibration in the steering wheel or the brake pedal if Tinnerman nut is left on the vehicle.
Tinnerman History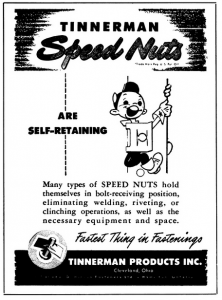 The Tinnerman Company was founded in Cleveland, Ohio in 1870 by George Tinnerman. It was known as the Tinnerman Stove Company, makers of high-end stoves. In 1936, Albert, George's son, created a spring steel fastener known as the "Speed Nut®" in order to solve an ongoing issue with stove shipping. George Tinnerman, grandson of the founder, commercialized Speed Nuts in markets beyond stoves – so successful in fact that the stove business shut down entirely. Tinnerman became the supplier of fasteners for 100% of WWII Aircraft.