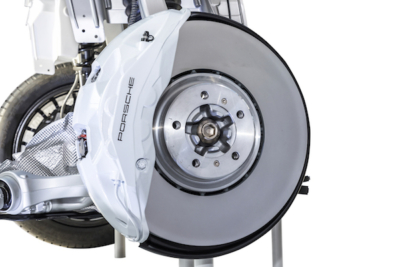 You might think that white brake calipers are a really bad idea. But, Porsche is using it as an eye-catching way to show off a new type of brake rotor and pad technology. For the new Cayenne, Porsche has launched an innovative new braking technology called Porsche Surface Coated Brake (PSCB). At the core of this new technology are discs with an exceptionally hard tungsten-carbide coating and specially developed brake pads. The PSCB option adds only $3,500 to the price of the Cayenne.
Compared to conventional cast iron brakes, the rotors generate up to 90 percent less brake dust. The increased friction values of the brakes also offer improved responsiveness. As with the Porsche Ceramic Composite Brake (PCCB), which is still available as a $9,000 option, the PSCB uses ten-piston calipers at the front and four-piston calipers at the rear with white calipers to emphasize the brake dust reduction.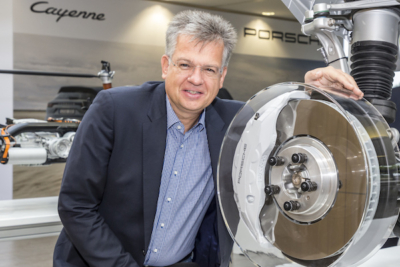 A side effect of the new technology is the unique appearance of the coated discs. After an initial period of day-to-day driving, the pads polish the surface, creating a mirror-like finish. PSCB is included as standard on the Cayenne Turbo, and is available as an option for the Cayenne and Cayenne S models in combination with 20-inch and greater wheel sizes.