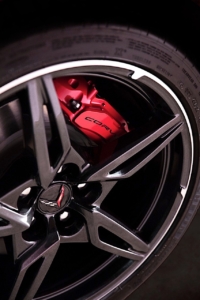 The new 2020 mid-engine Corvette made its debut yesterday. While everyone was captivated by the mid-engine configuration, the staff at SafeBraking was more interested in the brake system. At the wheels, the brake rotor size for the base models and Z51 packages are the same sizes as the 2018 models. Chevrolet did not announce if there was going to be a carbon-ceramic option for the mid-engine Corvette. The caliper options are very similar to the front engine with four-piston calipers in either a two-piece or monoblock design. Looking at the press photos, it looks like they kept the same pad shape. The previous generation of Corvette had factory brake pads with mechanically attached friction materials.
The big news is the eBoost brake system that integrates master cylinder, electro-hydraulic booster and ABS modulator into a single unit. The new brakes do not need a vacuum booster or vacuum pump to boost the driver's input to the brake pedal. The eBoost system delivers better brake feel that can be tuned electronically to better suit the driver and road conditions. eBoost also helps to reduce stopping distances because it has a faster pressure build rate than conventional systems. This is critical for automatic braking systems that need to apply the brakes quickly if an obstacle or pedestrian is detected in the path of the vehicle.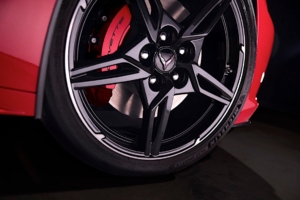 The integrated eBoost system is lighter than convention systems and can be better packaged in a rear-engine vehicle like the new Corvette. The system was first used by GM on the 2019 Cadillac CT5 and CT6.