Safety is a top consideration for drivers. While today's cars offer more safety features than ever, from passive devices like air bags to active features such as stability control, nothing replaces careful attention to the most fundamental safety feature: brakes.
An annual brake inspection should be at the top of every motorist's to-do list. Better yet, year-round attention to braking performance and developing the habit of listening for signs that brakes need attention should be part of every wise driver's skillset. Channel Five News Colorado provides some key tips to keep in mind when assessing the current state of your brakes and your need for brake repair.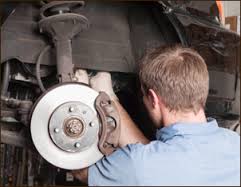 Check it out!
Here are 7 signs your brakes need to be inspected:
1. Feel any drag? Be alert to brakes that seem to stick, wheels that are hot or an engine that seems to lose power. The brakes may be failing to release; alternately, the condition could reverse, leaving you with no brakes at all.
2. There's a pull. Does the vehicle pull to the left or right when brakes are applied? Make sure tires are fully inflated. If the pull persists, it's time for a professional to check the brakes.
3. Stomping on the brakes? It should not take extreme muscle power to make the brakes work. This "hard pedal" symptom, when the brake pedal nearly touches the floor before engaging, can indicate brake trouble.
4. Brake light is on. There are several reasons the brake light is illuminated on the vehicle dashboard. The problem could be simple: brake fluid could be low. Or, it could involve a hydraulic system failure.
5. Shake, shake, shake. Can you feel the brake pedal, steering wheel or your entire vehicle vibrating, pulsating or shaking? This may indicate a problem with disc brake rotors or a faulty steering mechanism.
6. There's a racket. Brakes should operate with very little noise. Don't ignore squeals, screeches, grinding, groaning, chatter, clatter or bangs. Your brakes may need repair.
7. Grab. "Touchy" brakes that grab with the least bit of pressure may indicate that brake linings are contaminated with grease or oil, or a component is broken and could fail.
Brakes wear out and will eventually need to be replaced. How quickly depends on factors unique to you: your driving habits, type of vehicle and when and where you drive.