A reoccurring theme seems to loom over the executives over at General Motors. Week after week, more and more GM cars are being recalled for all sorts of problems on various models. The real trend? All the cars recalled were manufactured in the last couple of years.
Now it seems GM has something even bigger to deal with, a safety recall affecting nearly nine thousand cars, all because of a very silly mistake.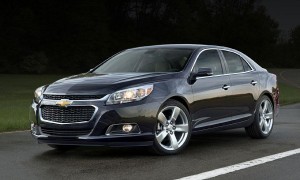 When assembling this year's Chevy Malibu and Buick Lacrosse, somebody down the line somehow mixed up the front of the car with the back, and installed the back tire rotors on the front tires of each car. How does that happen?
A report released by the NHTSA states that " (the) rear rotors could have been mistakenly fitted to the front axles, which could lead to 'possible reduced braking performance.' All Malibu models and the Lacrosse eAssist use 11.7-inch vented rotors on the front axles and 11.5-inch solid rotors at the rear, while the Lacrosse V-6 uses larger vented rotors (measuring 12.6 inches up front and 12.4 inches out back)."
The report concludes with some good news for Malibu and Lacrosse owners, stating that only a mere 1,900 of the affected models are actually in consumers hands. This is one of many recalls issued by GM this year and it's addition sums up the total amount of cars recalled to a whopping 5.4 million units.