Chrysler on Wednesday announced a second, much larger recall in a month over a brake defect in Jeep Grand Cherokees and Dodge Durangos.
The current recall incorporates 867,795 vehicles worldwide of Chrysler's 2011 to 2014 model-year Grand Cherokees and Durangos, according to documents found on the National Highway Traffic Safety Administration website. Brake booster corrosion in these vehicles can let water infiltrate booster, which can freeze and deteriorate braking capability.
The affected vehicles were made from January 5, 2010, through September 8, 2013, with 644,354 sold alone in the U.S., and the rest sold in Canada, Mexico and other world markets.
Chrysler Group said in a statement that it is aware of one crash that transpired and there no injuries currently linked to the issue.
The company started an investigation in May 2013 peering into pedal pressure complaints and warranty data and eventually found that the brake boosters, made by TRW Automotive, have small crimp joints that can corrode when exposed to water. Ultimately decreasing brake vacuum boost and necessary excessive pedal pressure.
In August, the company decided the issue could be alleviated as a "quality improvement initiative," i.e. did not require a recall, since there was less assist but the brakes still met safety standards, according to the documents filed with NHTSA.
Last month, NHTSA contacted Chrysler concerning reports of the corrosion allowing water to get into the booster and, in some cases, freezing, the documents say. Chrysler agreed to investigate and found that water intrusion — which its statement says was a "previously unseen occurrence – and freezing cut brake function more, increasing the risk of a crash, leading to the recall.
Dealers will inspect and replace corroded boosters and will install a shield over the
booster to keep water away from the booster joints.The company did not say why the vehicles would not simply get the new, revised part that's been installed in these vehicles since September.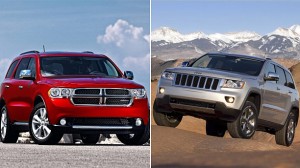 Just last month, Chrysler recalled about 25,000 of these Grand Cherokees and Durangos Cherokees from the 2012 and 2013 model years for excessive brake pedal pressure due to a defective part in their "Ready-Alert Braking" system, a safety measure that prepares the brakes for a panic stop when the driver suddenly lets go of the accelerator.
The company says it will begin notification of affected owners of the new recall next month. More information is available from Chrysler about it at 1-800-853-1403 or NHTSA at 888-327-4236 or at safercar.gov.
Read the original article at USA TODAY