When you hear the words seed funding and venture capital, you almost never associate them with mobile mechanic services. But, Zippity is looking to change the business model of not only mobile mechanics but brick and mortar repair shops using funding from an unlikely source. The company recently secured an additional $3M in seed funding. The round was led by Schooner Capital, which joins BP Ventures and LaunchPad Ventures, who both participated in the original seed round. Since launching in 2017, Zippity has formed partnerships with companies across New England and Texas to provide over 70,000 employees access to comprehensive repair, diagnostic, and detailing services at their workplace. Zippity bringing comprehensive car care to the workplace with clean specialized trucks.
"We're gratified by the enthusiastic support we've received from customers and our corporate partners," said Chief Executive Officer, Edward Warren. "Customer growth and feedback make it clear that we're bringing a fundamentally new level of convenience to people who commute to work by car. We've created the new standard in car care and these customers aren't going to return to their old auto shops. We're excited to partner with Schooner and our other investors to ramp up our offering and bring Zippity to more workplaces."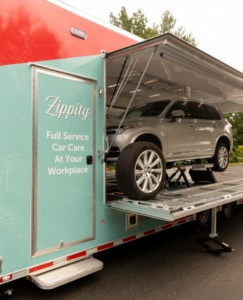 "Zippity's model is unlike others that we've seen," said Orhan Gazelle of Schooner Capital. "Not only are they reinventing how corporate professionals are maintaining their cars, they are opening new possibilities for professional car mechanics who are interested in starting their own businesses. We're excited about the scale and potential of this approach."
Zippity partners with companies at no cost to offer employees onsite car maintenance services. Once a company signs up, employees can book and manage their services at http://www.zippitycars.com.
Maintenance services are performed inside self-contained service vehicles which allow Zippity to service vehicles year-round in all weather conditions without any impact on client sites. The service vehicles are outfitted to perform comprehensive mechanical and detailing services including brakes. The company says it partners with local parts suppliers to provide high-quality parts.