Can you name the vehicle these were brakes are on? These monster brakes have almost 15-inch rotors with four calipers in the front. Need a clue? Think Zeppelin. Need another? Jayz, Kanye and Otis. Click continued reading link to find out…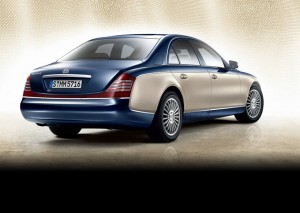 If you said Maybach 57 or 62, you are right! The Maybach had huge disc brake rotors at 14.8 inches up front and 14 inches in the back. The Maybach had six brake calipers instead of the normal four, two calipers on each front wheel. Each caliper was controlled individually by the hydraulic control unit.
Maybach was originally a subsidiary of Luftschiffbau Zeppelin and was itself known for building ridged air ships. Maybach was their engine division that built massive V12 and V16 engines.
Mercedes revived the brand in 1997 and killed it last year. The most infamous Maybach moment was when rappers Jay-Z and Kanye West "modify" a used 2004 Maybach 57 as part of their Otis video in 2012.