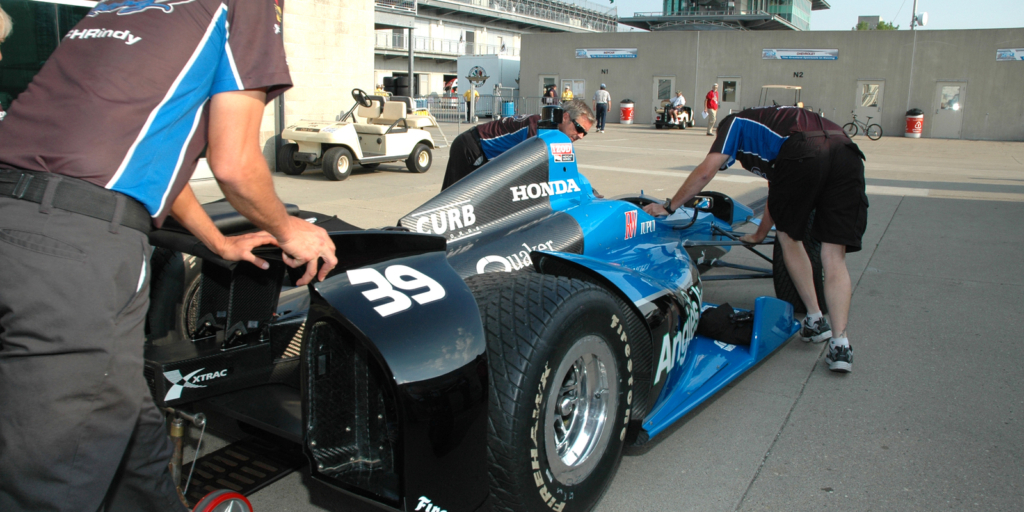 Just spent the weekend at the Indianapolis Motor Speedway watching qualifying and bump day. This is the first year for the new Dallara chassis and turbo-charged engines.  It is also the first year for a new brake system.
For 2012, all the cars have the same brake package for all the tracks. The system is made by Brembo and uses carbon-carbon rotors and six-piston calipers at all four corners. These brakes are spec for the cars and teams cannot use another system. This was done to keep costs down for all the teams.
In the past, brake-systems were open for development. Teams had two brake packages for ovals and road-courses. The oval setup typically used carbon rotors and a variety of caliper designs. The main factor for development for these systems was weight reduction. Some teams ran a very small rear caliper. Road course setups were engineered for stopping power. Some systems even used steel rotors and calipers with six to eight pistons.
This year there is one brake system for all the cars and tracks. This was a challenge for Brembo due to the requirements of the different tracks. On ovals the brakes are cold from most of the race and typically are only used to slow the car during pit stops. Road courses run high-temps during the entire race. Coming up with a package that does it all was difficult.