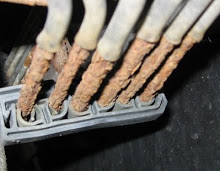 According to a GM spokesman GM dealers will be offering  a low price brake line kit for their most corrosion prone vehicle, the GM full size pickup trucks and SUV's, including the Sierra, Silverado, Tahoe, Suburban, Escalade, Avalanche, and Yukon. The kit is said to cost just $500 according to the spokesman. This should lower the usual $1,500-$2,000 price tag for the brake line replacement on these trucks.
ten's of thousands ofChevy/GMC/Cadillac pickup truck and SUV owners that are experiencing corrosion problems. There is a National Highway Traffic Safety Administration (NHTSA) investigation going on related to the premature rusting out and failure of the brake tubing for model years 1996 – 2009. This problem has also found fuel supply lines. NHTSA is focusing its investigation on 2000 – 2003 models in northern states, as it says most failures involved those models in rust belt states, where liquid salt is sprayed.
Over time, the brake fluid can corrode the copper and steel. If the brake fluid ages and the corrosion fighting chemicals break down, a system can corrode internally at a very fast rate. Some brake fluid tests measure the amount of copper ions in the fluid to determine the condition. Once the copper is gone, the mild steel goes fast.