A lot of controversy has emerged over the danger associated with wearing flip flops while operating a motor vehicle. Over 4 different articles have been published on the topic, but the real question is: Is it really that dangerous?
An article published by Health E-news suggests that driving with flip flops is more dangerous than wearing high heels, and a survey in conjunction with the article found that the shoes are responsible for about 1.4 million close-calls and accidents each year. A third of the drivers surveyed admitted to wearing flip flops while driving and an astonishing 1 out of 9 women confessed that their flip-flops have been caught underneath the pedal while driving. Scary!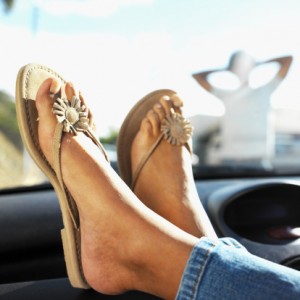 The second article published by The Canadian Safety Council speaks on the danger of driving while wearing "high heels and flip-flops to platforms and boots", as it can cause you to lose control of your vehicle. But the epitome of danger seems to always gravitate back to the flip flops. A survey featured in the article found that 750 people out of the 1000 motorists questioned said they found it challenging to drive in flip-flops, while 25 percent admitted to regularly driving in them. Less than half of the women drivers surveyed stated they chose what shoes to wear based on what went best with their outfit rather than what was the safest footwear for driving in. Who would of thought.
The third article, produced by The South Florida Serious Injury Lawyer, beseeches it's readers to refrain from wearing flip flops while driving ever again. According to the article, this unfortunate scenario has recently become a reality in New York. A woman lost control of her vehicle and police have reported that it was due to an obstruction to the pedals from the flip flops she was wearing. After losing control of her vehicle, the woman hit 3 female pedestrians who were waiting to use the restroom in front of a church. All three women were killed, but in hindsight, maybe if she had picked better footwear for her journey, those women would still be alive today.
The final article, authored by NBC Washington, warns it's readers on the dangers of operating a vehicle with anything that could cause your foot to slip or even get stuck, featuring flip flops as the number one offender. DMV Commissioner Richard D. Holcomb says "Our employees see it all the time. Our customer service representatives who conduct road tests have seen flip-flops and sandals come off and get stuck under the gas or brake pedal. Fortunately, we have not had any tragic situations, but that is what we are trying to prevent." Holcomb hopes people will heed his warning and think ahead before choosing what kind of shoes to wear before driving, because for some people, it could be a matter of life and death.
In conclusion, this journalist recommends not wearing flip flops, sandals, high heels or anything that can make you lose grip of either pedals or ultimately make you lose control of the vehicle. As the expression goes, the "proof is in the pudding" when it comes to the topic of open toed shoes and driving. It is a lot more dangerous than one would conceive but it is just to big of a risk to take when operating a vehicle.
Here's a list of what to wear and what not to wear the next time you get behind the wheel:
 FOOTWEAR YOU SHOULDN'T WEAR WHILE DRIVING:
Platforms – they are heavy and have thick soles, they make it tough to get a feel for the pedals, and can often get stuck
Stilettos – high, sharply pointed heels risk becoming caught in the floor mat, and can force your foot to rest at unsafe angle while driving
Strappy sandals – weak, loose shoes may slip on the pedals, or expose your feet to painful abrasions.
Flip-flops, mules, and slippers – these are not secure enough and may slip off as you drive. You need shoes that stay securely on the foot.
Boots – too restrictive of ankle movement, and knee-length styles can catch against the seat.
Some running shoes – ones with thick, chunky soles restrict movement and the ridges may catch against the pedals. Not enough feel between your foot and the controls.
 Footwear you should wear while driving:
The sole of the shoe should be no thicker than 2.5 cm.
At the same time, the sole should not be too thin or too soft.
There should be enough grip to prevent the sole from slipping off the pedals.
The shoe should not be too heavy.
It should not limit ankle movement.
Thin-soled gym or walking shoes generally work fine.