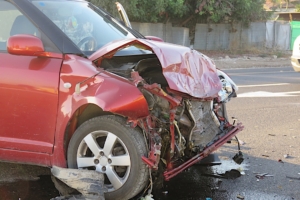 Blaming the brakes for an accident is a thing of past in some cities. Before a driver could claim that the brakes did not work as a defense to avoid a ticket. But with the implementation of event recorders, it is difficult to cry "brake failure" to some police departments.
In Arlington Heights, IL, a driver failed to stop at an intersection and struck a vehicle causing it to roll over. When the driver was asked why he failed to stop, the driver said his brakes failed. The police decided to look at the event recorder to see if the claim was true. Well, the event recorder showed that the brakes were functioning and managed to slow the car from 33mph to 19mph before the collision.
More and more police department can retrieve data from the event recorders as part of an accident investigation. The data includes information on the brake system including system pressures, ABS/ESC status and if the brake warning light was on at the time of the collision. Late-model vehicles will also include data for the position of the brake pedal and ADAS sensors like radar and cameras.
Driver's Brakes Did Not Fail in Rollover Crash: Cops
A 41-year-old Arlington Heights woman suffered minor injuries in the collision Saturday afternoon.
ARLINGTON HEIGHTS, IL —The brakes on a car that ran a red light, and collided with another car in Arlington Heights Saturday afternoon, did not fail, authorities said Tuesday. The driver of a 2014 Toyota Camry, a 54-year-old Palatine man, originally told police his brakes failed while heading west on Northwest Highway at Ridge Avenue, which lead to him going through a traffic signal at about 3:45 p.m. The Camry collided with a Chrysler Town & Country, causing the van to roll over and come to rest on its roof.
Authorities downloaded the 2014 Toyota Camry's Event Data Recorder, commonly referred to as a "black box," following the crash, which showed the car was traveling at about 33 MPH, with the cruise control activated, as it approached the intersection prior to the collision, according to a news release from police. The driver of the 2014 Camry did not apply his brakes until less than one second before the impact, police determined.