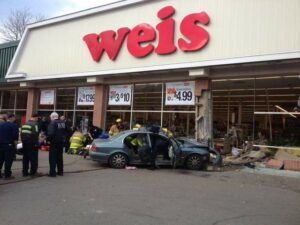 Unless you are descending a medium-sized mountain without the aid of switch backs, your brakes should not fail. If your brakes fail while descending a small grade going into town, chances are the brakes were in need of inspection and repair.
On Friday, the driver of a Hyundai Sonata in Binghamton, NY crashed into a Weis Market on Conklin Avenue  (here is the hill on Google Streetview). The car, traveling downhill on Burr Avenue, barreled through the Conklin Avenue intersection at high speed toward the grocery store, according to authorities and witnesses at the scene.
The driver's side of the car landed against a support beam outside the store, but didn't hit pedestrians or other cars prior to the impact.
All four people in the car — the driver, his 23-year-old wife in the front passenger seat, their 4-year-old girl and their 2-year-old boy — were conscious after impact, according to authorities at the scene.
Police are investigation if this is a case of brake failure or driver error.