U.S. investigators have spent years trying to figure out why the brakes on thousands of U.S.-made trucks and SUVs were failing without warning. Brake failures were behind at least 107 crashes last year and there is data illustrating that up to two million vehicles could be affected.
Finally, after four years of study, the National Highway Traffic & Safety Administration (NHTSA) says it has finally solved the mystery: Salt.
According to reports, the agency has "strongly" suggested that Americans "thoroughly wash the underside of their vehicles." Investigators found unexpected brake failure could happen to anyone driving a 2008 and earlier vehicle in a cold-weather state.
In a 2011 NHTSA probe, the agency looked at GM trucks made in 1999-2003 following numerous reports that some of the U.S.'s largest passenger vehicles seemed unusually prone to sudden brake failure. Among the suspects: the Cadillac Escalade, the Chevy Suburban and the GMC Yukon.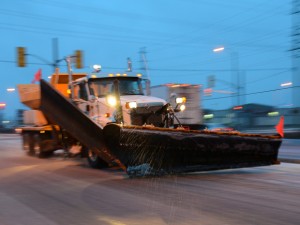 Investigators responded by sending out surveys, pored over safety records, and inspected 71 randomly selected vehicles — but nothing found warranted a recall/
However. the probe did find that sudden brake line ruptures were not limited to a couple of million GM cars. Instead, they could be a danger to anyone behind the wheel of an older model truck or SUV in one the U.S.'s "salt states."
"Salt and other chemicals can accumulate on road surfaces, can accumulate on your vehicle's underbody, and could put you and your passengers in danger," says a safety video issued Thursday by NHTSA.
The 'incubation period' identified by the report was only eight years. By that point, cars driven in "harsh conditions" would have built up enough corrosion to produce extremely dangerous and life-threating structural problems.
If you live in one of the "salt states" and own a vehicle that falls within the period, you could seriously be at risk. The best action to take at the moment would be to follow the Agency's directions and thoroughly wash the underside of your vehicle. This should be done semiannually to prevent the spread of corrosion.
We will be updating this story as soon as we've received more information.
Special Thanks to the National Post and NHTSA