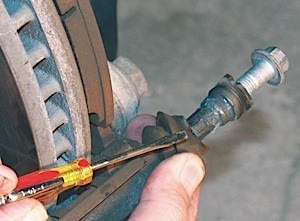 Many OEMs and suppliers realized that corrosion and contamination of the guide pins and bores is the leading causes of uneven and premature brake pad wear. In order to extend the life of the pads and calipers, many using special plating and coating on the guide pins.
This is why you should not use any air tools to remove the guide pin bolts and only use hand tools. Using an air tool on the pin and accidentally spinning it in the bore can scrape the plating. If moisture makes it past the boots, the surfaces can corrode. This can cause the caliper to seize and lead to uneven brake wear.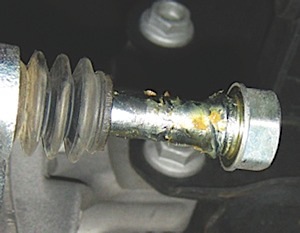 Inspect the dust boots for damage and replace if necessary. Most boots have to be seated in the grooves on the pin and caliper to fully seat. If they are not seated, corrosion can happen in less than 500 miles.
Also, don't put in too much grease on the pins or boots. The grease can heat and expand. The grease will be forced out of the boot and contaminate the pads.