Hyundai Motor Co. on Monday recalled about 27,500 Genesis sedans in the United States built from April 1, 2008, through March 16, 2012, to replace faulty brake fluid. Just this past March, Hyundai started a safety campaign exclusively for the affected cars, claiming approximately 40% of the vehicles were affected while the other 60% had their fluid already replaced.
However, after receiving news that the U.S. safety regulators had opened an investigation into an estimated 40,000 Genesis cars from model year 2009, Hyundai decided to recall the rest. Hyundai says letters to inform affected owners are being mailed out next month.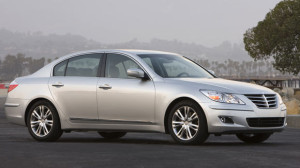 According to The Chicago Tribune The National Highway Traffic Safety Administration had opened a preliminary evaluation into an estimated 40,000 Genesis cars from 2009 after receiving 23 consumer complaints claiming reduced brake effectiveness. Other complaints dealt with faulty Anti-lock Braking System failure.
As for the affected owners, they will be instructed to bring their cars to Hyundai dealers for a complimentary brake inspection and changing of the brake fluid with replacement fluid containing an anti-corrosive additive.