BMW has announced a voluntary recall of 76,190 2012-14 cars over of a possible loss of power braking in affected models. Units affected include 3-Series, 5-Series, X1, X3, and Z4 models built between May 2012 and August 2013 and equipped with the N20 or N26 turbo four-cylinder motors.
According to LeftLane News, the power braking issue derives from an oil restriction from the intake camshaft to the vacuum pump. If the pump were to fail, the driver would be unable to utilize the braking assist and would experience significantly longer and more dangerous braking distances.
So far, three accidents have been reported that BMW is aware of, and seven total accidents have been reported by the National Highway Traffic Safety Administration.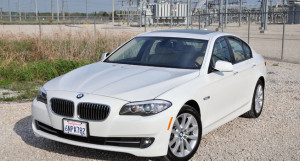 Currently, there is no immediate fix for this problem, but BMW assures customers that they are working on a solution involving a locking ring inserted onto the camshaft allowing unscathed oil flow to the vacuum pump.
In the mean time, BMW asks drivers to continue driving their vehicles until the official recall notice is sent out in December. When the notice arrives a two-hour fix will be included absolutely free of charge. But, if you experience any kind of braking issue, BMW advises that you pull over immediately.
List of models affected:
2012-14 320i/328i, 320i/328i xDrive Sedan manufactured between May 2012 – August 2013
2014 328i xDrive Sports Wagon manufactured between March 2013 – May 2013
2012-13 528i, 528i xDrive Sedan manufactured between June 2012 – June 2013
2013-14 X1 sDrive28i, X1 xDrive28i manufactured between June 2012 – June 2013
2013-14 X3 xDrive28i manufactured between June 2012 – August 2013
2012-14 Z4 sDrive28i manufactured between June 2012 – June 2013