Auto Service World published these nine tips for selling brakes. The market that needs brakes is not driven so much by brand preference as much as it is by the reliability of the components that you are handing over the counter.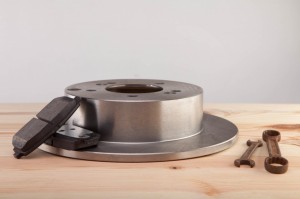 The key selling point is usually cost and how confident you are in the product you are selling. So, you'll need to know the product you're selling and how brakes work, as well as why brakes fail. You'll also need to know a little about each customer that comes in – how many miles are on the car, how long do they expect to keep the car; do they want a short-term fix or a long-term repair? As you become more experienced at asking the right questions, you'll get better at selling brakes and helping customers make an educated decision.
Here are the nine top retail tips for brake sales from Auto Service World:
9. Hone Your Customer Service Skills
Every single customer that walking in your door or calls your shop wants to feel appreciated. They don't want to feel taken advantage of and surely do not want to feel stupid when talking to you. Build relationships with customers and listen to the customer.
8. Stand Out from the Competition
Always exceed customer expectations. Know the products on your shelves and talk with the customer about his available options. Make the customer feel confident that he is walking out after making the best decision he could.
7. Ask Questions
Do some research about the car before recommending certain components. Is the customer looking to get another five to seven years out of the car? They make be willing to pay a little more to guarantee that the brakes last. Is the car towards the end of its lifespan? Chances are that the customer wants to put on less expensive parts that fix the problem.
6. Don't Waste Money By Wasting Time
Don't waste customer's time by going into too many details or over-explaining products. Ensure that they are making an informed buying decision while being direct, short and informative.
5. Avoid Hardware Headaches
Emphasize that a small investment in new brake components now is well worth the extra few dollars to include all new hardware instead of dealing with re-using worn hardware. 
4. Rotor Recommendations
Customers that need pads oftentimes also need rotors too – they just don't realize it. Ask them questions about the rotors and point out that it's much more cost-effective to replace pads and rotors at the same time.
3. Keep In Mind the Import Challenge
Remember that import brands are usually loyal to OEM components.
2. Advising the DIYer
Be helpful. Brake jobs require a high level of technical knowledge. Don't speak down to the customer; offer advice, pointers and reminders.
1. Go the Extra Mile
Schedule a reminder follow-up call for the customers that you've spent extra time with.  The customer will appreciate the few minutes you took to talk to him or her and if they give you feedback, that can help you hone your sales skills.