Dear Ask the Experts:
2012 Toyota Tundra
4 Wheel Drive 5.7 V8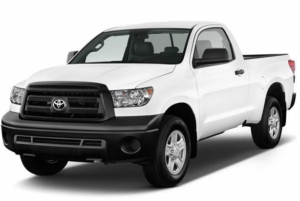 Problem: The truck came in with a brake pedal that seemed to be bypassing to the halfway point. Needed brakes and replaced all pads rotors and calipers. Front calipers are fixed four pistons.
Pressure bled the system. Plug the master cylinder, Pedal was good. Changed the master cylinder anyway, made no difference. Took to two other shops, all said it was air And tried to bled clamped all four rubber brake lines,
PEDAL STILL SEEMS TO BYPASS HALF WAY. BEYOND HALE WAY THE BRAKES WORK, BUT THE PEDAL SUCKS. I DID THE LAST SET OF BRAKES Myself, AND THEY WORKED FINE.
All of the people I Talked to said In Has to be in the abs module. The ABS system works. Bleeding all of the valves seemed to open The pump ran And Pumped Fluid. Someone Said The though a valve was stuck open? If that was true, I would think it would fill with fluid & the pedal would get better. I have been doing brakes for 44 years. Never had a problem like this. Thanks For Your Time, I would be very happy if you can help me. PS: We don't use junk parts
Answer: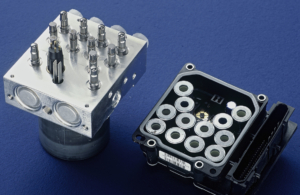 Yes, it could be the ABS system. The system has 12 valves that work in pairs to control brake pressure to the four wheels. One valve isolates and the other valve dumps pressure. Each wheel has two valves (isolation and dump) for a total of eight out of the 12. The other four valves control the hydraulic circuits for the master cylinder and pump.
These four valves can allow pressure to go from the master cylinder to the wheels for normal braking, dump pressure to get the wheels moving again, or they can be used to allow the ABS system (maybe using the pump) to take over for stability control corrections.
The 12 valves use a needle and seat that can leak or become stuck. The pressure leaks down internally and is absorbed by an accumulator. If a valve is leaking or is stuck, it can cause a low pedal or a strange brake pedal. Typically this is caused by old brake fluid or debris lodged in the valves.
Other ideas? Check the brake pedal position switch operation. This truck has electronic brake distribution and ABS brake assist boost. If the switch is malfunctioning, it could cause the condition you are describing. These switch measure more than old-style switches.