A handful of teen drivers spent their Saturday afternoon learning how to avoid accidents and brake properly during a safe driving seminar held at BMW's Performance Center in South Carolina.
The program was facilitated by B.R.A.K.E.S., which stands for Be Responsible and Keep Everyone Safe. B.R.A.K.E.S was started by professional drag racer Doug Herbert, who lost his two sons in a horrific traffic accident back in 2008.
"Because of my boys, Jon and James, I want to help out other families, so tragedies that happened to us don't happen to them," he said. "I think we're doing it. It seems every day we get a letter or email that tells us how something one of these students learned has kept them out of an accident.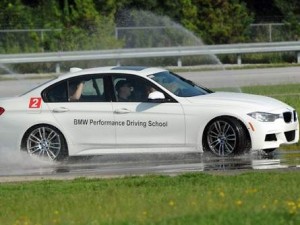 About 70 drivers went through multiple courses at the performance center, including a skid pad, designed to teach them how to correctly recover from a skid, panic stopping, a slalom course, a distracted driving course and accident avoidance.
Jane Johns, the coordinator for community relations with B.R.A.K.E.S., said teen drivers can always use the advice of professional instructors to make sure they are as safe as possible.
"The instructors can correct some of the kids' bad habits while they're out there driving," she said.
B.R.A.K.E.S. has held courses all across the country. Recently, the program was selected as a charity by the North Carolina Highway Patrol, and since 2009, about 11,000 teen drivers have taken part in this special courses created to shape safe drivers.
For more information about B.R.A.K.E.S and how to sign your teen up for a lesson in your area, click here.